Overview

The Spectrometer is spectroscopic angle measurement instrument. It can be used for the angular measurements based on refraction, diffraction, interference or polarization.We offers this high-quality spectrometer that allows students to perform accurate prism and grating spectrometry. High-quality, large-aperture optics produce sharp spectral images, while precision machining allows for precise rotation and accurate measurement.
Specifications
Angle measurement accuracy: 1'
Collimator and telescope: focal distance 170mm, aperture Φ30mm, visual field 3°22'
Triple prism: angle 60°±5', material: ZF2(nD=1.67268, nF-nC=0.02087)
Ocular focal distance of telescope system 24.3mm
Features
1. The large diameter lens barrel is continuous-zoomed by hand wheel.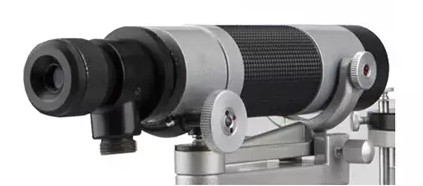 2. Wide-range voltage power supply design, using 110-250V power supply or 3V battery box, and it is suitable for most of countries.
3. Use long-life and high brightness green LED to illuminate the view field.

Typical Experiments and Data
1. Angle measurement of prismThe angle is 59º55′
2. Min-deviation measurement of prismThe min-deviation angle is 0.9468±0.0003rad
3. Use grating to measure wavelength of mercury lampPlane holographic grating: 300lines/mm, d=3333.33nm
| | | |
| --- | --- | --- |
| Standard Wavelength(nm) | Measured Wavelength(nm) | Relative Error (%) |
| 435.9 | 436.1 | 0.46% |
| 546.1 | 546.5 | 0.02% |
| 577.1 | 577.7 | 0.10% |
| 579.1 | 579.7 | 0.10% |
Parts List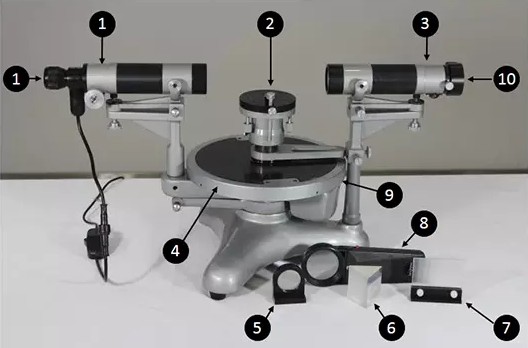 | | | | |
| --- | --- | --- | --- |
| 1 | Telescope and Eyepiece with a LED Light | 6 | Triple Prism |
| 2 | Custom Prism/Grating Table | 7 | Grating |
| 3 | Collimator | 8 | Magnifier with a Light |
| 4 | Vernier Scale | 9 | Dial Disc |
| 5 | Optical Flat | 10 | Slit |