BIM-6303 Double-points Reflection Stage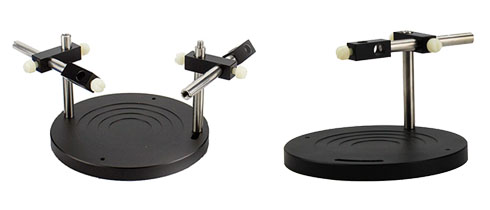 Double-points Reflection Stage can be used to measure the multi-angle reflectivity of solid and powder sample materials. Single-point reflection stage is suitable for Y-type optical fiber, which can measure the vertical incidence of light; double-point reflection stage is mainly used to fix the two Y-type optic fibers, which can measure the incidence of light at different angles. The shape of single-point & double-points reflection stage can be easily switched to each other, with high flexibility and practicality.
Features

Multi-function: support single-point or double-points reflection application.
Convenient sample positioning: there are positioning grooves of Ø40mm, Ø60mm, Ø80mm and Ø100mm
Stable and Flexible: free control of incidence angle and sampling angle.
Specifications

Dimension:Φ150mm×13mm
BIM-6315 Inverted Reflection Stage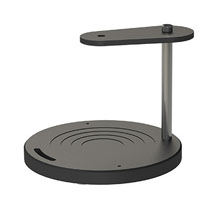 Inverted reflection stage is used to accurately measure the reflectivity. It ensures that the distance from the sample to the reflection fiber is exactly equal to the distance from the standard sample to the reflection fiber.
Related products
SIM-6101&6102 Quartz fiber optic probe